---
Research Group: Water and Environmental Engineering Group
Funding Body: Defra New Technologies Demonstrator programme 
Partners: Bioganix Ltd, Gloucester Country Council, Local farmers, DEFRA, University of Southampton. 
Technical Report produced in 2010 – full report here

The Bioganix Demonstration Project was a partnership between Bioganix as waste processors, Gloucester County Council as waste disposal authority and a cooperative of around 450 farmers as the utiliser of the final product. The Bioganix demonstration plant was sited at Wharton Court, Leominster, Hereford and had the capacity to divert 32,450 tonnes of material over a 3-year period. The work was funded under Defra's New Technologies programme with the University of Southampton responsible for providing research monitoring and evaluation, including energy footprinting of the process.
Project aims
The overall aim of this evaluation and monitoring project was to determine whether a short- retention aerobic stabilisation process (rapid composting) can provide an effective diversion route for source segregated BMW producing a value-added compost material for agricultural use. To achieve this aim three specific objectives were identified:
• to assess the quality and suitability of the input BMW material as a feedstock
for production of an agricultural fertiliser, both alone and when blended with other commercial wastes.
• to determine an accurate energy balance for the process and relate this to the degree of stabilisation of the waste in terms of LATS criteria.
• to assess the biostability of the final product, its nutrient value and suitability for fertiliser substitution in agriculture.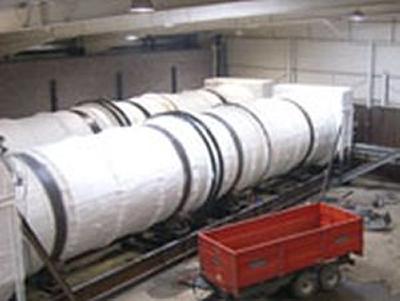 The Bioganix in-vessel composting plant is situated in Leominster, Herefordshire. The plant was monitored for the period January 2006 to December 2007 inclusive, and during this time received 9,200 tonnes of mixed garden and kitchen waste from a local authority kerbside collection scheme, together with an additional 22,584 tonnes of food waste, feathers and poultry waste, and paper and packaging. A bulking material was also added to the process. The predominant output was a compost-like output that did not meet BSI PAS 100 specifications during the reporting period, but in April 2008 after further off-site maturation obtained a certificate of compliance with PAS 100 and the Quality Protocol (2008) as a soil improver.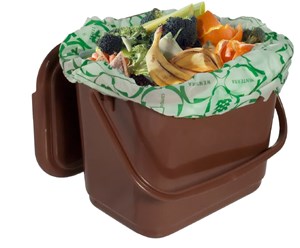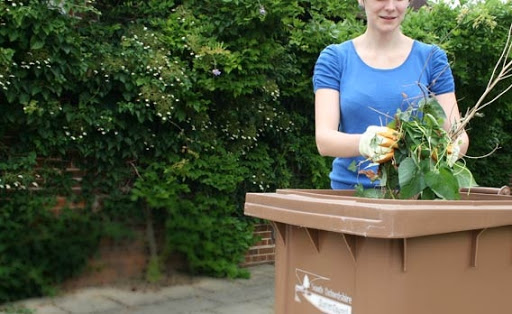 The contents of waste deliveries were often uniform in nature (i.e. each delivery often contained only one specific material type). Individual waste types were kept segregated in an allocated storage bunker prior to the mixing of material for processing. The material types that were accepted are detailed below:
Mixed garden and kitchen waste – Source separated collection of kitchen and garden waste as provided by South Shropshire District Council (SSDC) during council collection days (~70% moisture content).
Feathers – These were supplied by Freeman's and Newent on demand by Bioganix (~55- 75% moisture content).
Food processing co-products – These were obtained from local industries and may have included residues and out of date or damaged products.
Poultry litter – This was delivered from poultry farms, although its availability has become subject to market forces as its value as a fertiliser substitute have increased substantially.
Paper and packaging – This was received from numerous sources.
The process was contained in two separate buildings. Waste was received, stored and shredded in the reception building and then carried in a sealed conveyor to the process building as and when required. The material was then fed into process vessels, which were horizontal steel drums rotating axially to allow aeration and longitudinal movement of the waste. The waste typically remained in the vessel for approximately 4 days, travelling from one end to the other by the action of an Archimedean screw. The material was then discharged and screened. Oversize material was conveyed back to the process vessels whilst compliant material was loaded into the batch-fed pasteurisation vessel which was of a similar design to the process vessels. The material was heated in the pasteurisation vessel to 70 oC for a period of at least one hour by the injection of high pressure steam. The output was loaded onto trailers for dispatch to customers or stored in a local field to allow further maturation. Exhaust gases were extracted from the process buildings and passed through chemical scrubbers and a bio-filter in order to minimise dust and odour resulting from the process.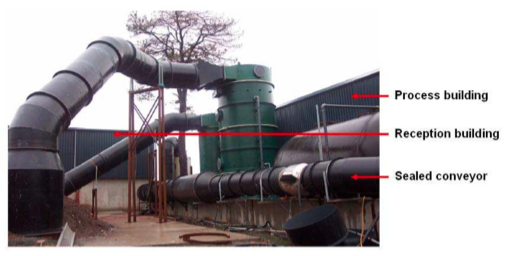 Bioganix processed 33,515 tonnes of material during the reporting period, of which 31,784 tonnes was waste, and 1,731 tonnes was bulking material. On average, 51% of this input material was feathers, 27% mixed garden and kitchen waste, 10% food waste, 3% paper and packaging, and 5% bulking material. In addition, 4% of waste delivered to the facility was of an unknown category.
Publications
Eades P., Banks C. J., Heaven S., Walker M, (2011) Mass and energy balance for a rotating drum composting plant Waste and Resource Management 164(WR3) 151-159
Eades P., Banks C. J., Heaven S., (2010) Research, Monitoring and Evaluation Support for the Bioganix Demonstrator Project Defra New Technologies Programme. https://webarchive.nationalarchives.gov.uk/20130123225334/http://archive.defra.gov.uk/environment/waste/residual/newtech/demo/documents/Bioganix-RME.pdf
Project overview https://www.southampton.ac.uk/engineering/research/projects/bioganix.page#project_overview%0A____________________
Bioganix Demonstrator Project – Research, Monitoring and Evaluation