---
Research Institute for Industry
nCATS research group
Objective
To determine the fitness for service of a new propeller system for a 35m Service Boat using Finite Element Analysis (FEA).
Situation
It is known that the propeller duct and propeller shaft natural frequencies may be excited by the excitation pressures or forces from the propeller, propeller shaft or vortex shedding from the duct or bracket trailing edges.
Excessive vibration force may cause fractures at the bracket joints that secure the propeller system to the vessel hull.
It was therefore necessary to carry out analysis before the boat was commissioned for use.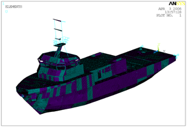 What we did
The Wolfson Unit MTIA, based at the University of Southampton, supplied realistic input data from empirical tests.
RIfI used finite element analysis (FEA) to determine:
Propeller and propeller shaft excitation frequencies.
Vortex shedding frequencies for the propeller duct and brackets.
Natural frequencies of the propeller shaft and its support brackets.
Certain hand calculations were also performed to verify the FEA analysis.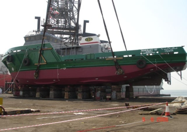 Impact
Based on RIfI's work some modifications to the propeller system were proposed, to avoid vibration.
The boat was launched after the suggested incorporation of modifications and sea trials were passed successfully.
No vibration problems with the propeller system have been encountered during vessel operation.
Vibration Analysis using FEA