---
Research Institute for Industry
nCATS research group
Objective
To assess the mechanical performance of a novel design for a Total Knee Joint Replacement system (TKR), compare it to clinically proven designs and prepare a technical report used for submission as part of the European biomedical regulatory process.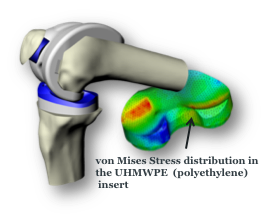 Situation
RIfI was commissioned to conduct a large series of Finite Element Analyses (FEA) of complete TKR systems in order to assess the mechanical performance of different designs and identify the best performing system.
The goal was to simulate real physiological conditions.
The aim was to provide an advanced technical report to support our client's EU regulatory submission process.
What we did
Developed a novel methodology combining Computed Tomography Imaging, Computer Aided Design, FEA and Rigid Body Dynamics simulations.
Integrated complex technologies and diverse software environments.
Worked closely with the design team and the client's partners based overseas.
Impact
Qualitative and quantitative demonstration of the superior performance of the new TKR design over existing ones.
Saved time and money to our client by providing a wide range of established expertise, access to state-of-the-art software applications, biomechanical models and large-scale computing clusters.
The findings of the RIfI study aided our client in achieving a regulatory CE marking.
Pre-Clinical Computer Modelling of a Total Knee Joint Replacement