---
Research Institute for Industry
nCATS research Group
Objective
Risk management of the largest ever davit boat launch

Situation
RIfI was commissioned by the consultant naval architects Amgram Ltd.
New semi-rigid GRP (Glass Reinforced Polymer) inflatable rescue craft.
Largest ever boat to be considered for davit launch (18.8m long and 30.6 tonne).
A two point lift system was to be employed, each with a safe working load of 16 tonne.
For a davit launch a statutory safety factor of 6 was required.
Therefore, each lifting point must be able to withstand a load of 96 tonne.

What we did
Initially FEA (Finite Element Analysis) modelling was conducted on the lifting points.
This analysis highlighted that design changes were required: changes to the bolt detailing, local thickening of the hull, adding a backing plate to the outside of the hull and using spacer tubes to reduce the bearing stresses in the plywood bulkhead.
A bespoke test rig was designed and built at the University to represent the hull lifting points and incorporated the design changes suggested by FEA.
The test showed that the lifting points could withstand 96 tonnes and the lifting arrangement was fit for purpose.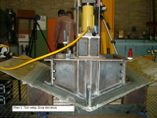 Impact
Simulation and testing proved to be a powerful combination where FEA optimised the detailed design and the final design was proof tested before manufacture.
This mitigated against a potentially dangerous and costly accident during initial launching.
The craft has been successfully launched and recovered using the davit system since 2005 .
Lifting Analysis and Load Test of a Hook Foundation in a GRP