---
Clean Carbon recognised for its help in Marwell's new Tropical House
Published: 17 July 2018 (article here)
The new Tropical House at Marwell Zoo opened in June and the Clean Carbon Group is listed among the credits on the acknowledgments sign, in the energy self-sufficient building.
Chair of Clean Carbon, Dr Lindsay-Marie Armstrong and fellow Clean Carbon members have been involved with colleagues at Marwell Wildlife for the past twelve months on a project about the plans for the Tropical House, in order to identify and detail the best way to illustrate how energy is created and used; and how the issues around sustainability effect us all. Towards the latter part of the project the Clean Carbon group held a competition among Postgraduates to produce 2 slides that encapsulated an energy problem facing us and wildlife, and a strategy or technology to address it. The winning ideas, chosen by Marwell Wildlife, were incorporated into the 'show and tell' elements that guide visitors around the Tropical House at the zoo, and illustrate the flow of energy through life.
Lindsay-Marie visited the Tropical House soon after it opened to see the its inhabitants in their tropical landscape. A cascading waterfall sets the scene as you enter and you can spot a Linné's two-toed sloth in the forest canopy and hear frogs calling. Free flying birds flit among the fronds and on the lower level just before you enter the interactive information zone there is a top predator – a large monitor lizard.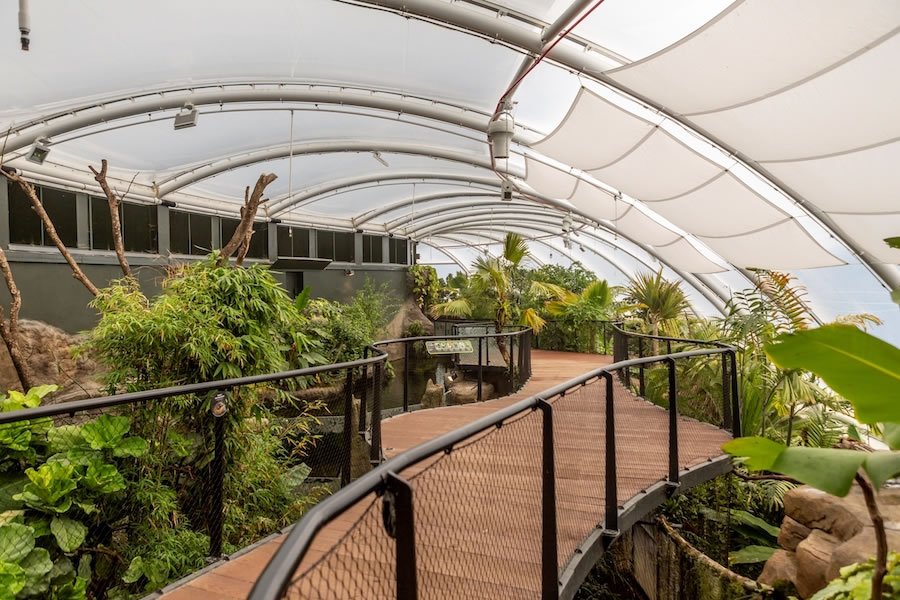 Supported by a £1.5million Local Growth Fund (LGF) investment by Enterprise M3 Local Enterprise Partnership (LEP), the £8m Tropical House will help Marwell Zoo become carbon neutral by 2020. They have realised there is a significant untapped energy resource in some of the 700 tonnes of animal waste that could be used for renewable energy within the zoo. So the building features a woodchip boiler that will be supplemented by a specialist boiler capable of burning straw-based animal manure later 2018, to provide heating for buildings across the zoo and enable them to reduce their carbon footprint and dependency on fossil fuels.
"The LEP's involvement has itself been catalytic and in addition to their grant, has allowed us to understand and support a wider regional strategy of economic growth, STEM skills development and low carbon technology, all of which 'Energy for Life' will deliver upon.
The unique combination of visitor experience and innovative green-technology creates a compelling story, throwing a spotlight on promoting alternative, renewable forms of energy. We hope guests, both young and old, can learn more, and feel inspired to join us in doing their bit to make a difference too."

James Cretney
Chief Executive, Marwell Wildlife

from greenhalo.org.uk

Marwell Zoo Tropical House