---
The Future Towns Innovation Hub will house state of the art facilities for large scale testing.
Academic lead: Prof Paul Kemp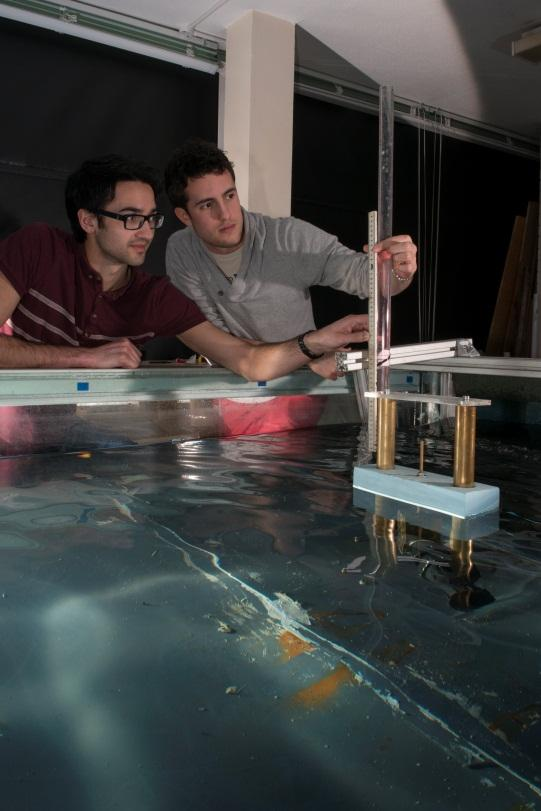 The University of Southampton currently owns several indoor and outdoor experimental channels based at the Faculty of Engineering and Physical Sciences and the Southampton Science Park, Chilworth.
At the new Future Towns Innovation Hub site there will be three large flumes, two small flumes and a wave tank available for use by research students and commercial partners.

Many towns are near water or have a river running through them affecting the lives of those living near by. These facilities will focus on identifying the environmental impacts of urbanisation on aquatic environments. The health of our river species, danger of flooding and effects of pollution are all areas of research that could be investigated here.
Group design project using indoor Point Flume

Outside Flumes

CDT-SIS student working in trapezoidal channel
The site will also house an Anechoic chamber.
The ISVR test chambers are operated by ISVR Consulting, and are well used not only for University research projects, but also for commercial testing and consultancy. For commercial use, contact ISVR Consulting (www.isvr.co.uk). The ISVR Consulting website includes further details of the test chambers (www.isvr.co.uk/facility.htm) and the laboratory services available (www.isvr.co.uk/labtests/labindex.htm).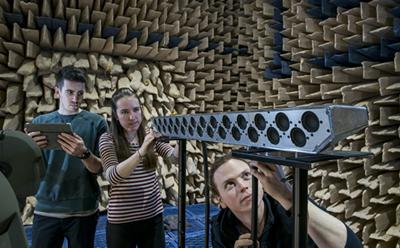 Wastewater and Energy
Academic lead: Prof Sonia Heaven
Waste management is vital to the smooth running of towns and the Bioenergy and Organic Resources Research group investigate the use of biological systems for energy production, biomass production for biorefineries and pollution remediation. The site will include lab facilities to enable research into renewable energy production through anaerobic digestion, Agal Systems and waste management.
Clean Water
Academic Lead: Dr Jen Muggleton
Under all our towns are a network of pipes for fresh and waste water, Dr Muggleton leads the research particularly relating to leak detection and the detection of buried objects using wave propagation in pipes and in the ground. She is currently working closely with UK Water Industry Research (UKWIR) on their 'Zero Leakage 2050' initiative as well as focusing on the use of optical fibre technology for pipeline leak detection. Mapping the Underworld is a project to use vibroacoustics and electromagnetic technologies to locate all infrastructure in all ground conditions without the need for probing excavations.
Energy Technology Lab
Academic Lead: Prof Andrew Cruden
As Electric Vehicle (EV) technologies begin to reshape the automotive industry the question of how this will affect the already over-burdened energy distribution network is becoming ever more important. Vehicle To Grid (V2G) Technologies aim to lessen this burden by allowing vehicles equipped with high capacity bi-directional charging systems to facilitate ancillary services such as frequency regulation and load balancing through the use of their on board energy storage units (Batteries).
Unmanned Aerial Vehicle (UAV) Lab
Academic Lead: Prof James Scanlan
The global interest in small multi-rotor drones, urban air-taxis and unmanned aerial vehicles is growing rapidly. Experts are currently predicting that the size of this sector is expected to quadruple by 2022. It is now widely accepted that noise is one of the main factors that could limit the public acceptance and adoption of drone technology. These labs can be used to develop this new technology for multiple uses.
Transportation lab
The Transportation Research Group (TRG) is one of the UK's longest established and leading centres for engineering-related transport teaching and research. It was established at the University of Southampton in 1967 and is based at the University's new Boldrewood Innovation Campus.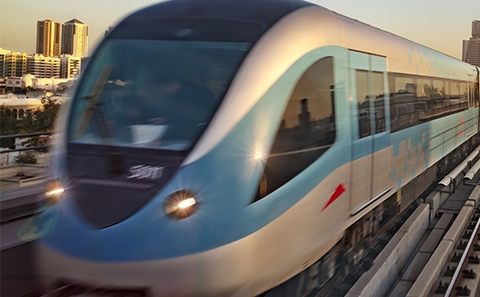 Research in TRG is wide-ranging and aimed at helping to secure sustainable transport systems for the UK and the world. The context for our research is our view of transport as a socio-technical system, capable of delivering sustainable outcomes – but also with the potential for unsustainable outcomes if the interaction between technology (vehicles, infrastructure, informatics, etc) and Society (Users, Operators, Government, etc) are not adequately addressed.
We are particularly interested in how society shapes, and is shaped by, technological developments in transport, commonly termed Intelligent Transport systems (ITS). This requires an inter-disciplinary approach involving (at least!) engineering, economics and social sciences.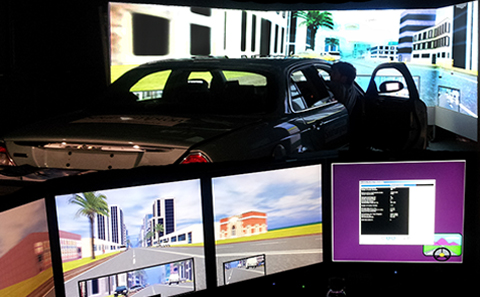 TRG's research is multi-modal, covering both passenger and freight transport, whilst also examining the scope for information technology to act as a complement or substitute for transport. We have particular expertise in fundamental and applied research in traffic management and control, safety, the environment/sustainability, bus and rail operations, freight/logistics and walking and cycling.
Facilities supporting TRG research include (i) The Southampton University Driving Simulator (SUDS), which comprises a Land Rover Discovery vehicle linked to the STISM Drive M500W – Wide Field-of-View System with Comprehensive Vehicle Dynamics Model and Active Steering and (ii) a fully Instrumented Vehicle (IV) for on-road measurements of vehicle kinematic characteristics, the proximity of surrounding vehicles, driver visual search behaviour, and driving environment/in-vehicle operations, all recorded in a data logging system.