---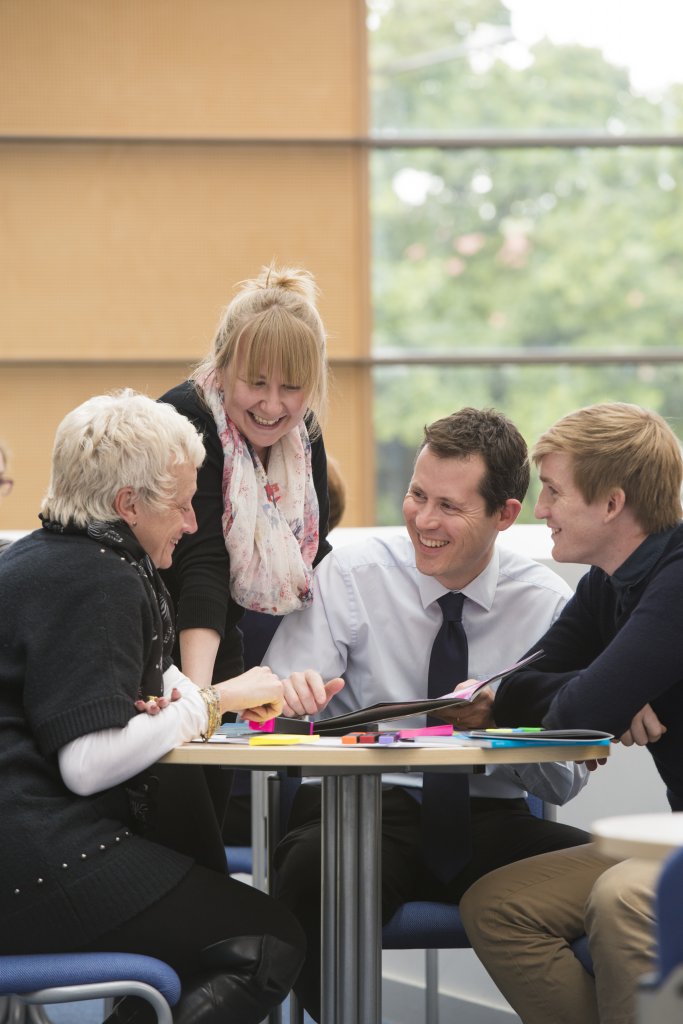 A £10M jointly funded project between the University of Southampton and Enterprise M3 will repurpose a 2-acre semi-derelict site adjacent to the Southampton Science Park in Chilworth. The proposed state-of -the-art building has been designed by Nick Sherwood at TKLS Architects and will comprise of specialist laboratory facilities that will support the range of sectors such as eco-hydraulics, electronics, automotive, energy (generation & storage) and unmanned systems, serviced by general workshop/fabrication areas and high quality dedicated meeting, conferencing and outreach space, and 'hot' offices for industrial collaborators, secondees and partners.
External views
East Elevation Main Entrance

South Elevation

Front – Road entrance

Front by car park

Aerial View
The Hub will be a physical space for business and enterprise to access world leading expertise, skills, and facilities available within one of the UK's most outstanding engineering groups in an environment that nurtures creativity and innovation.
The Hub will provide not only the space but the environment to: 1) enable interactions between business and academia to identify impediments to improving quality of life and economic outcomes, which will be addressed through the co-creation of solutions; and 2) accommodate large-scale test facilities that enable co-designed technological solutions to be advanced to high levels of readiness for commercialisation.
Situated centrally within the Science Park's Innovation and Science Centre, it will capitalise on the innovation, technology transfer and business growth capability which is inherent in the Science Park's operation. The aim of the Hub will be to: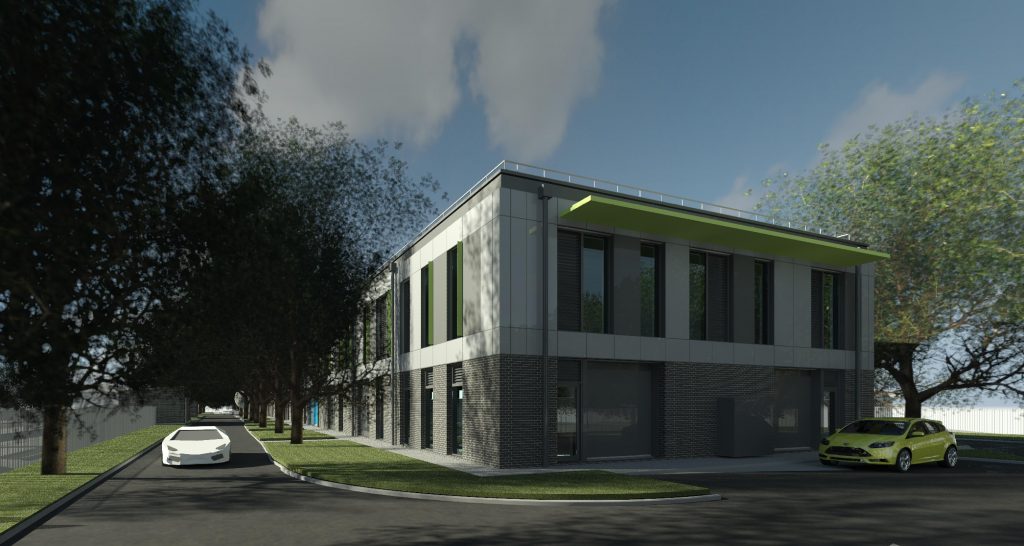 Support existing businesses (especially SMEs) in developing their capacity for innovation and growth;
Creating new businesses through close partnership with the Southampton Science Park Catalyst Programme and SETSquared;
Provide access to state-of-art facilities and expertise within one of the UK's most outstanding and diverse engineering universities, to increase their capacity for internal innovation;
Develop and upskill their current and future staff;
Creating an entrepreneurial environment in which commercial and academic staff cancollaborate on innovative business ventures;
Acting as a gateway through which companies (especially SMEs) in the EM3 LEP can access, and partner with, large market players and stakeholders with whom the University of Southampton and the Science Park has strategic relationships.

The Innovation Hub will complement our other facilities that are closely aligned with sustainable living, we envisage that the Hub will house key large scale equipment: unique large scale water flumes that can be used to assess the impact of infrastructure on our waterways; expand our UAV Skunkworks to build and test full scale models; unique surface engineering test- rigs looking to green and enhance transportation efficiency; safe open testing space for autonomous vehicles; pilot scale energy generation & storage rigs as well as a large flexible demonstration area where prototypes can be showcased to potential users by both the university and industrial partners. For more details see the Laboratories page.
UAV

Outside Flumes

Anaerobic digesters

Anechoic Chamber
Facilities on their own stand for very little, it is the people and ideas that drive their usefulness. With this in mind, we aim to make the Hub a collaborative space and act as an open, inclusive portal through which industry in the M3 LEP region can gain access to a 'one-stop-shop' for their innovation needs: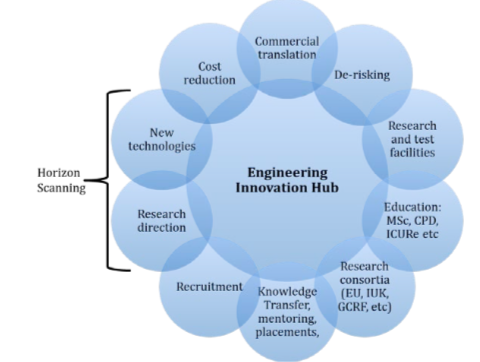 To facilitate this 'entrepreneurial ecosystem' there will be dedicated meeting, conferencing and outreach space, and 'hot' offices for industrial collaborators, secondees and partners such as Future South, SETSquared, Future Worlds, Faculty Enterprise Units (https://www.southampton.ac.uk/business/consultancy.page) and the University Research & Innovation Services (collaboration and bid support, technology transfer, contracting, legal etc.).
Artist's impressions – Internal

Coffee Bar

Communal work area fixed seating

Communal work area fixed seating

Communal work area loose seating

Communal work area loose seating

Multi-use space