---
University of Southampton Science Park Engineering Centre reaches development milestone
Posted by Internal Communications RB | August 17, 2021 7:00 am
Construction works commenced on the new Engineering Centre at Southampton Science Park in November 2020, and now the University along with Midas Construction and the Enterprise M3 Local Enterprise Partnership (LEP) have celebrated the topping out of the steel frame.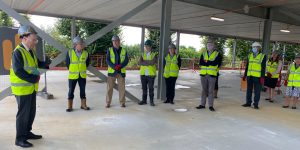 Professor Mark E. Smith, President and Vice-Chancellor of the University, marked the development of the milestone with Michael Queen, Chair of Enterprise M3 LEP and representatives from the Southampton Science Park, the University of Southampton and Midas Construction, at a special topping out ceremony.
Professor Mark E. Smith, President and Vice-Chancellor of the University of Southampton said:
'I am so pleased to be here today to celebrate this important milestone in the construction of our brand new Engineering Centre. This is a very important investment from the University that will help further our commitment to become a fully civic university. The centre will help to grow and retain local talent and maximise the impact of our research related to the environmental and sustainability challenges faced by local towns and their businesses. I look forward to the collaborative work we will complete with businesses throughout our community. I am very grateful for the support for this project from the Enterprise M3 LEP.'
The Engineering Centre will enhance collaboration opportunities for the University of Southampton Science Park and local business within the Enterprise M3 LEP area of influence. It will house the Future Towns Innovation Hub (FTIH), which will deliver a joint industry-academic Centre of Excellence by bringing together cutting edge ideas, commercial expertise and state-of-the-art research laboratories to facilitate happy, healthy and prosperous towns in the Enterprise M3 area and beyond.
The Engineering Centre construction is due to complete in early 2022.
Construction of the Future Towns Innovation Hub 'tops-out'