---
Between 8 and 15 March, for Southampton Science and Engineering Festival (SOTSEF) 2020, artist Susannah Pal took up residence and exhibited a range of oil paintings and ink collages in the foyer of University of Southampton's Hartley Library.
Global problems can only be addressed through a multidisciplinary approach. E-Waste is just such a problem and we are all, everyone of us, implicated. Many people need the arts to stimulate an emotional response to complex questions. That can be through music, theatre, cinema, the visual arts and much else besides.

Susannah Pal artist website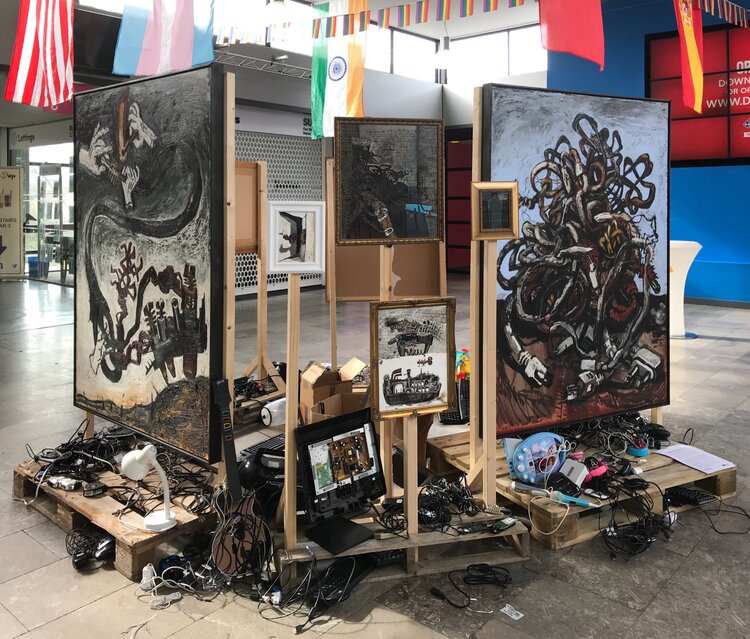 Under the leadership of Ian Williams, Professor of Applied Environmental Science (Engineering and Physical Sciences, University of Southampton) the artist Susanah Pal became a part of a creative collaboration with the Waste Management Research Group (WMRG). The project, 'Transitioning to a circular economy' (TRACE) focussed on communicating through the arts the problems of WEEE (Waste Electronic and Electrical Equipment).
Working collaboratively, Susannah created emotive art that inspired active public participation in the circular economy. A key aim of the project was to raise awareness and therefore stimulate behaviour change within the general public. A general lack of awareness that the actions and inactions of what people do with their eWaste can slow or even stop the circular economy from being effective.
Where do our old smartphones and electronic gadgetry end up? Why can't they be repaired or upgraded? What's wrong with hoarding my old electronic items at home?
Susannah is interested in the physical impact of waste, and in the psychology of why we so easily consume and discard on an endless cycle.
When a smartphone or computer breaks, it ceases to be the portal to another dimension (search engines, social media, maps etc). It becomes it's visible materials; glass encased in plastic. How is the consumer expected to understand the gravitas of their action post-breakage when the inner workings are hidden from view? To the consumer the phone becomes immaterial. And thus, it becomes a lot easier to consume and discard or hoard without much thought.
A phone contains about 75 elements on the periodic table mined from various places across the world. If we continue to irresponsibly discard our consumer electronics or hoard them in a cupboard, we are not playing our vital role in the circular economy. Therefore we will run out of the precious metals and materials needed. And of course, the implications of irresponsible disposal of WEEE doesn't end there. Unethical mining practices and 50,000 illegal dumpsites create untold misery for millions. We must stop ravaging the natural world for resources for our temporary joy. (I wrote a couple of blogposts about this in May). I want to be part of raising awareness and inspiring action.

Susannah Pal blog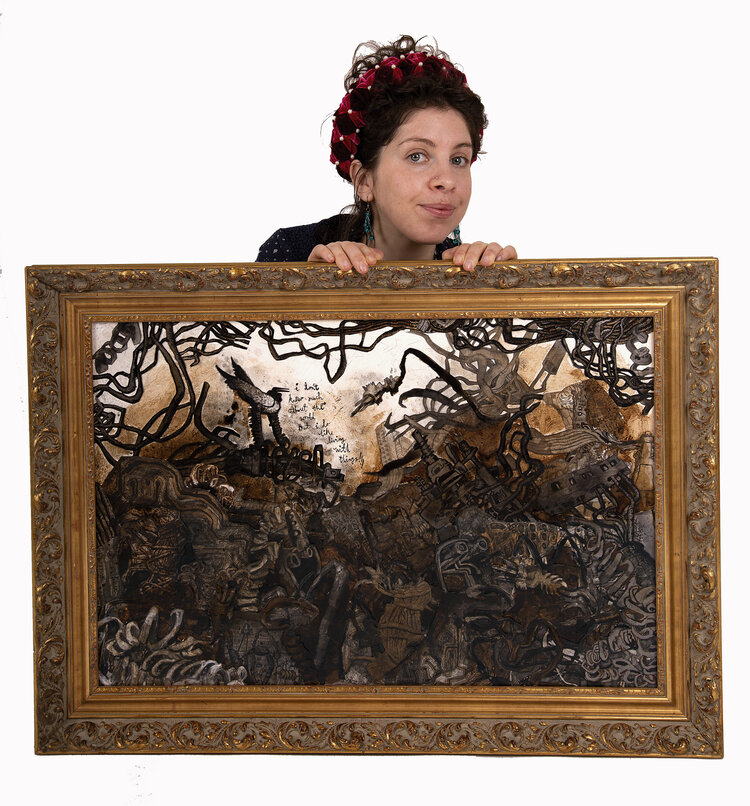 Stopping the E-Waste Tsunami